Custom printed fabrics for that next burst of inspiration
Fellow fabric friends, rejoice! We're giving you access to some of Australia's most renown artists and their captivating work… in fabric form. Think bright, bold designs adorning a range of high-quality, Oeko-Tex 100 certified material (that you get to pick!), using inks free from the nastiest chemicals.
We think it's high time you ditched run-of-the-mill, generic and boring fabrics and embraced the rainbow. And who better to show us how then artists like Deb McNaughton and Danielle Monique, to name a few. Let's show the world our true colours with funky custom printed fabrics (scroll on to ignite your creative spark).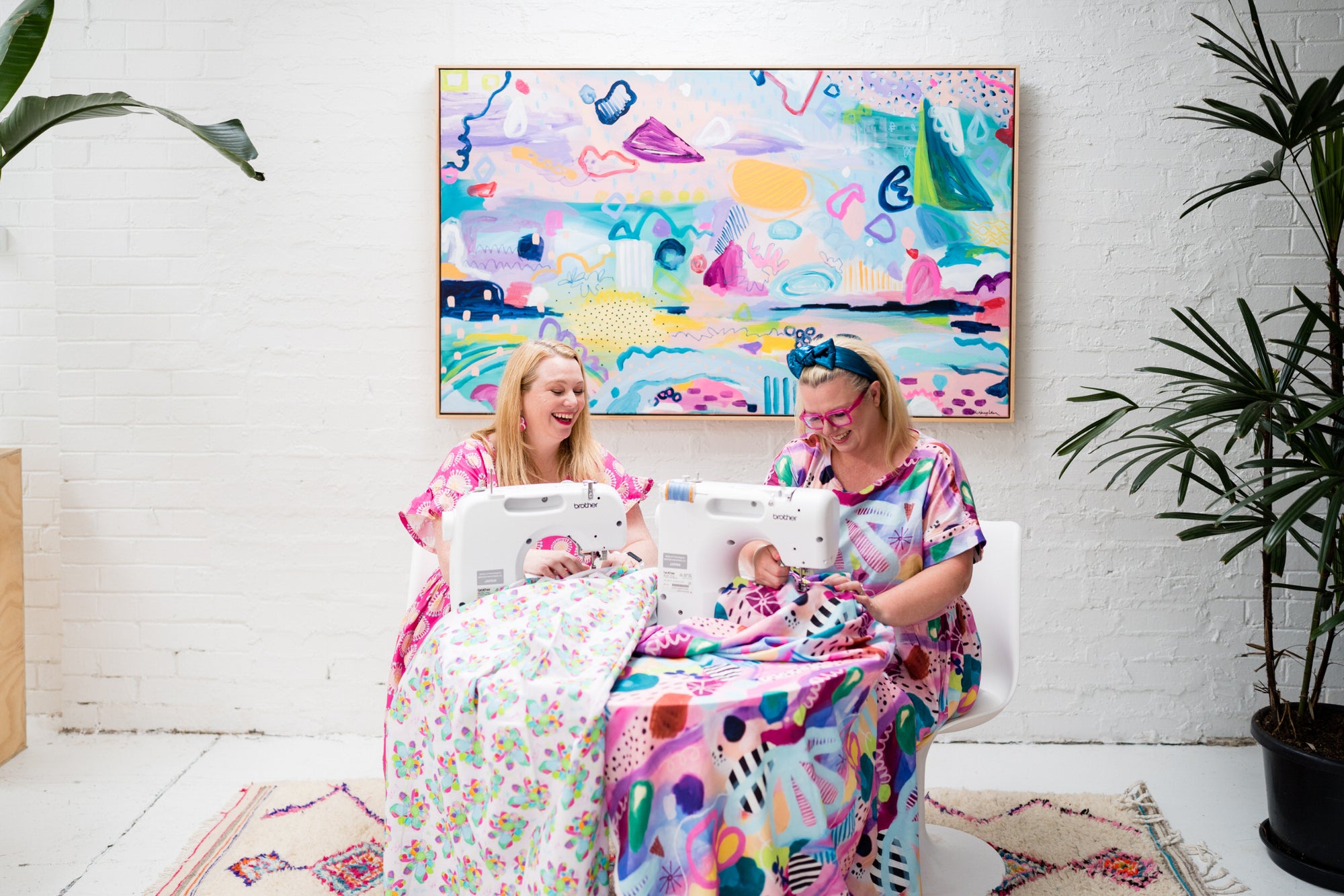 We're artist loving sewing fans, just like you!
How much does it SUCK when you have your heart set on a certain fabric design and it sells out? HEARTBREAKING!
That's why we started Hello Friend Fabrics – we wanted to get our favourite artists on custom printed fabrics to satisfy our urge to make.
Co-founded by creative ladies Annelie Hill and Louise Johnson, we're here to advocate for art and bring you the best quality, affordable fabrics to keep your wardrobe unique!  
Retail fabrics

Have a dress pattern you've been itching to bring to life? Or maybe you're longing for a personalised tote? Explore our collection of retail fabrics that are ready to roll (pun intended).

Pre-order fabrics

Got your eye on one of our artist's designs?Order custom printed fabrics in the material, size, scale and quantity that your heart desires. Then, we'll do the rest!
Accessories

Fabric is one piece of the creative puzzle when it comes to crafting up a storm.

Get your mitts on woven labels & other accessories to complete your designs.

Gift Cards

Do you know a fabric friend that is as obsessed with bold artworks as we are?

Treat them to a Hello Friends Fabric gift card so they can get their fabric fix from us.
Pre - Order fabrics
In a nutshell, our pre-order fabrics allow you to choose a design from our amazing artists and get it custom printed onto bangin' fabric.
See what other fabric friends have to say…
"The most amazing fabric, prints are so vibrant and even better customer service. The ladies are amazing and so happy to help with all my questions. Highly recommend"

"The Team at Hello Friend Fabrics never disappoint. Their fabric bases are divine, and they offer makers the opportunity to work with the most amazing designs. Plus their customer service is amazing."

"These woman are focused on supporting other Aussie brands and businesses. They are bright, bubbly and wonderful to work with. I feel lucky to be one of their represented designers."

"Amazing quality fabrics printed with crisp, vibrant colours! The customer service is the best! My favourite plce to shop!"

Highly recommended!

"wow JUST WOW they are amazing and o soft I bought some fabric and just wow it is nothing I have seen before"

"The colours in the designs are so vibrant and the quality is amazing..Received my order quicker than expected and the customer service was great."
Unique, good quality custom printed fabrics SHOULD be easy to find
Here's the thing: we know you've got the passion and the eye to create magical things. So do our artists – in fact, by grabbing their art printed on fabric, you're making sure they get paid for their genius. In our hearts, we know this is a win-win: think of it like one big collaboration between you, some kick-ass Aussie artists and us, your new BFFs (Bold Fabric Friends). 
Our journey began all because of one artist: creative powerhouse, Deb McNaughton. Once upon a time, we wanted access to more of Deb's prints (and other artists' designs) but they weren't available on pre-order anywhere else. So what do we do? Naturally, we started Hello Friend Fabrics!